Student Groups
Where Passions Converge
Interested in biochemistry, Greek playwrights, and cycling? Don't box yourself in—pursue them all. Students convert knowledge into action. They create new initiatives, found organizations, and confront pressing social issues with an interdisciplinary view.
Hoof'n'Horn
In 2019, Duke's student-run musical theatre group performed a sold out production of Lin-Manuel Miranda's "In the Heights."
Duke University Union
Duke's largest programming and media body made up of 17 committees puts on 100+ events per year. Speakers and artists they've brought to campus include Jenna Marbles, Bo Burnham, Laverne Cox, X Ambassadors, Betty Who, and Kendrick Lamar.
the Archive
Established in 1887, The Archive is one of the oldest continuously published literary magazines in the United States and the oldest student publication at Duke University. It focuses on the publication of student poetry, short fiction, photography, and artwork.
Duke Electric Vehicles
Three-time champions of the Shell Eco-marathon Americas, this team broke the Guinness World Record for fuel efficiency with their hydrogen fuel cell car reaching the equivalent of 14,573 miles per gallon.
HackDuke: Code for Good
Valuing collaboration over competition,this 24-hour hacking sprint unites students in their efforts to utilize tech to further social good.
DEID
Duke Engineers for International Development's (DEID) mission is to support high-impact engineering projects around the world by combining community-driven ideas with student design.
Athletics
Go Duke or Go Home
Whether you want to be courtside or centerfield, it's easy to get involved with Duke athletics. Intramural, club, and varsity sports provide entry points for the casual to the competitive player. With free access to sporting events, Duke students are excited to deck themselves out in blue gear (and paint) to cheer on their peers.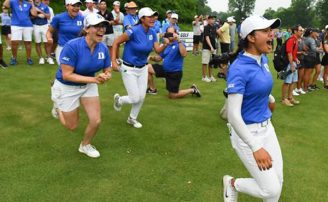 A Culture of Champions
The Blue Devils have 17 NCAA team national championships. The Duke Women's Golf team won their 7th NCAA Championship in 2019 and boasts several program alumnae with U.S. Women's open titles.
Make Your Dreams
30+ Sports Clubs provide students with opportunities to compete in organized recreation at the local and national level. Sports Clubs receive funding for annual "Dream Trips" in which they travel to unique locations for training or competition.
Get in the Game
Students, faculty, and staff are able to team up and work out through an extensive network of free intramural offerings from soccer to Ultimate Frisbee.
Get in the Spirit
With free tickets to all sporting events, Duke students can show their support for the Blue Devils of our 27 varsity teams in the NCAA Division 1 such as Duke Basketball and Duke Diving.
Campus Traditions
It's A Duke Thing
Duke's school spirit is infectious. From the moment you arrive on campus, you can feel it in the air. Our festive celebrations spark excitement, camaraderie, and an incredible sense of pride that bonds us from first year to long after graduation.