Counselors
MAKING DUKE A REALITY
We know that guiding students through the college selection process while also catering to individual academic interests can be a juggling act. We are always willing to assist high school counselors with the college admissions process and encourage you to take advantage of the information provided below.
Student Profile
WHAT WE'RE LOOKING FOR
Every year, thousands of the world's best students apply to Duke. They represent a wide spectrum of diversity and experiences, but they are united by their interest in Duke's academic rigor, stimulating campus environment, and reputation for achievement. Most admitted students have demonstrated impact, intellect, imagination, and interest in the classroom, in the community, or on the athletic field. It could be doing one thing brilliantly, or several things exceedingly well.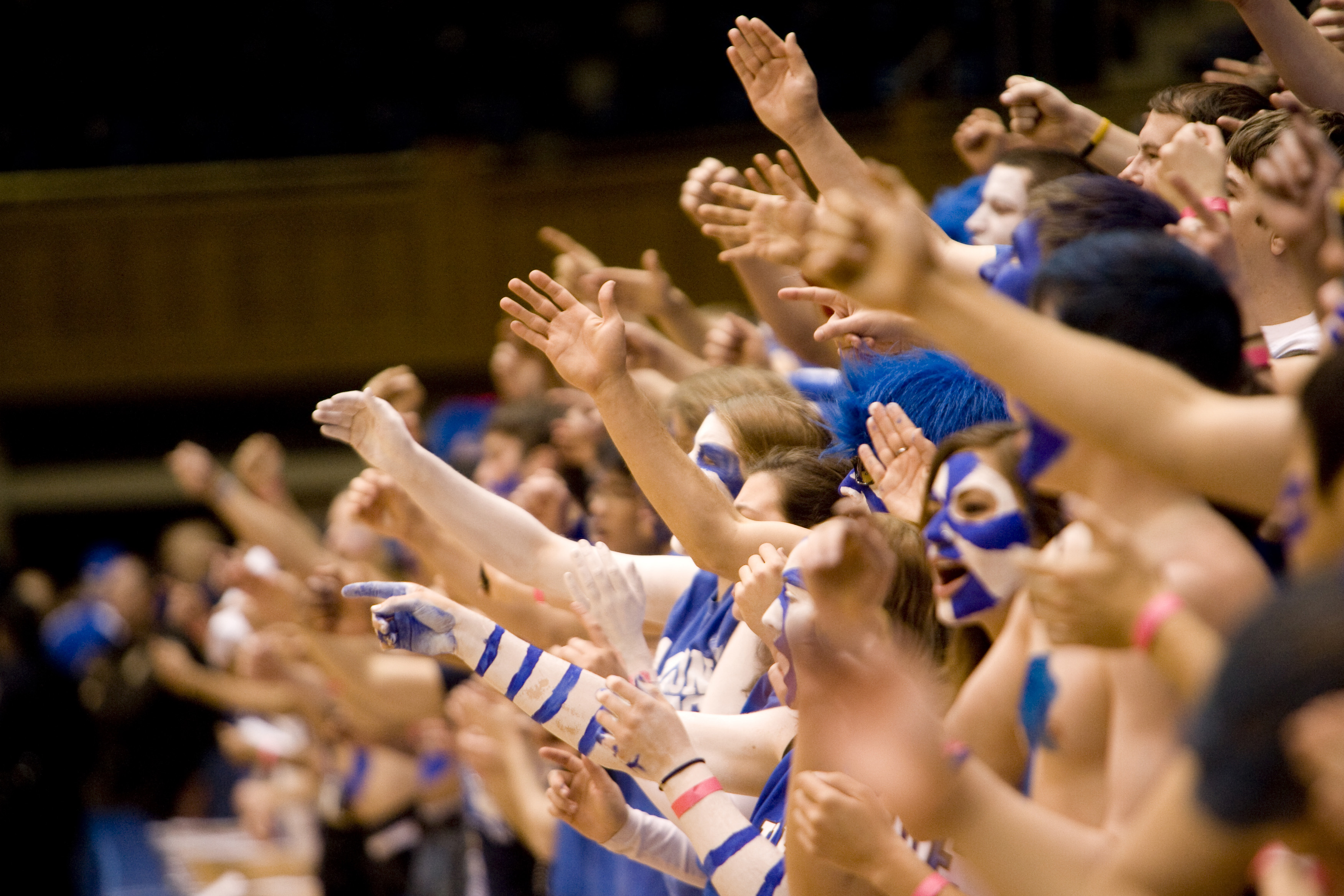 Application Information
HOW TO APPLY
The outstanding students who apply for admission to Duke each year continually astound us. We are always excited to welcome a new class into our collaborative community of intellectual explorers.
01 - PICK AN APPLICATION
The first step for our admissions process is for students to submit an application using either the Common Application or Coalition Application. Both applications include a one-page personal essay as well as short essay questions specific to Duke.
For a quick reference of deadlines, click here.
02 - CHOOSE EARLY OR REGULAR DECISION
Students who know that Duke is their first choice may apply through our Early Decision program. By applying Early Decision, students must commit to enroll at Duke if they are admitted in December. Regular Decision applicants can apply to as many colleges as they choose and can wait until the spring to make a commitment to the college of their choice. There is an advantage in the admissions process to applying Early Decision. During the 2022-2023 application cycle, we admitted 16.5% of students who applied Early Decision and 5.2% of students who applied Regular Decision.
03 - SEND MATERIALS
Once we receive the student-submitted portions of our application, students receive an email to access their Application Checklist, which reports application materials that have been received. Required materials include a high school transcript, first quarter and/or midyear grades, recommendation letters, and an application fee. SAT or ACT test scores are optional for the 2023-2024 application cycle. Optional application materials include alumni interviews and artistic supplements. We also recommend non-native English speaking students complete an English proficiency test. Counselors, teachers, or other recommendations, may visit the Common Application or Coalition Application for more information about submitting their recommendation letters and other materials.
Enrolling students are required to submit final transcripts by July 6. Please use the Final School Report form and submit through the Common Application or Coalition Application. You may also email a PDF of the transcript to undergrad-admissions@duke.edu.
04 - LETTERS OF RECOMMENDATION
Q. How are letters of recommendation used in the Duke admissions evaluation process?
A. Letters of recommendations (LORS) are just one of many factors that are evaluated in our admissions process. They are helpful in supplementing academic information (curriculum, grades, test scores, etc.) and to help show the applicant as a scholar and person within their community. Often, LORs complement the student's personal statement and provide context to the application beyond that shared by the student.
Q. How many letters of recommendation does Duke require?
A. Duke asks for three letters of recommendation: one from a school counselor and two from teachers. The teacher recommendations should come from instructors in core academic classes. Ideally, we prefer recommendations from instructors who have taught the student during their last two years of school. However, we are happy to accept recommendations from 10th-grade instructors who know the student well.
Q. Our school does not have a college/guidance counselor. Who should provide that recommendation?
A. We recognize that not every school has a college or guidance counselor. In these circumstances, a principal, head of school, curriculum coordinator, or another member of staff who can provide an overall sense of the student in the school environment is welcome to submit the recommendation.
Q. What should I include in my counselor letter for the student to make it most effective?
A. Counselor letters are helpful in our process when they provide the following:
Information about the school and community
Context about the student within the school community
Context about the student within your professional experience
Highlighting the student's achievements outside the classroom, if known
Any special or personal circumstances concerning the student you believe we should know
Q. I am a school counselor, but due to my caseload I am not able to meet with/get to know all of my students. Will this hurt them in the application process?
A. No. We understand that many students are not able to build relationships with their counselors for various reasons, and this will not negatively impact their application review.
Q. What should be included in teacher recommendations?
A. Teacher recommendations are most effective when they provide examples of a student's academic ability, intellectual curiosity, and motivation to learn and grow. We like to hear about a student's impact and contributions to the classroom, their particular strengths, and how they stand out (not just academically) from their peers, both within their current community and from your professional experience. Any anecdotes you can share to highlight strengths are welcome; your interactions with your students (even if small – or virtual) can often reveal traits that we seek in the admissions process.
Q. Do you have a preferred format for letters?
A. No. We encourage counselors and teachers to provide their recommendations in the most convenient and effective format for them, whether in a narrative format or in bullet points. However, we strongly recommend LORs be no more than one and a half pages long, two pages at the most.
Q. In light of COVID-19, is there any additional information you would like letters of recommendation to provide?
A. We understand that the COVID-19 pandemic has affected students, teachers and schools in various ways, disrupting both junior and senior year experiences. While we will be taking this into consideration when reviewing applications, we always appreciate any further contextual information you can provide in your letters or school profile. This can include changes to grading systems, school policies and calendars, extracurricular opportunities, and teaching models. If you have specific information about a student's home learning environment or other relevant information about the impact of COVID-19 on that individual, please feel free to include that as well.
Q. Should I advise my students to complete the Community Disruption response on the Common Application or Coalition Application?
A. Duke admissions officers will read all short answer responses supplied by the student, including the Community Disruption response, which allows students to share how they have been impacted by events such as the COVID-19 pandemic, natural disasters and global affairs to share their experiences. We particularly encourage those students who have been impacted beyond the norm in your community to utilize that space, if they feel comfortable doing so, but any student who wishes to share information about how their studies have been disrupted should feel free to do so.
Q. Do you accept additional Letters of Recommendation?
A. Yes, though we strongly recommend students submit no more than one additional letter. Often, the most effective additional letters of recommendation come from someone outside of the school setting, such as a coach, a religious leader, a research advisor, or community service or job supervisor, who has meaningful insight into an applicant that wouldn't otherwise appear in the application.
Q. If there is something I do not feel comfortable sharing in my letter or if I have an update, is there another way to relay that information?
A. You can reach out to our office via email to provide an update or to arrange a phone call.
05 - DECISION NOTIFICATION
After thoroughly reviewing each application and making committee-based decisions, we release decisions for our Early Decision notification plan around mid-December. Regular Decision applicants receive notice before April 1. Our college decision deadline is May 1.
Contact us
We're here to Help
Applying to college doesn't need to be complicated. Our admissions team is here to help you and your students navigate the admissions process to ensure it's a smooth one.
Duke works with slate.org to give counselors and community-based organizations an opportunity to track the progress of their students' applications and admissions decisions. For more information or to register your organization, go to

slate.org

.
VISIT WITH US
GET TO KNOW DUKE
The best way to enjoy Duke's warm and welcoming spirit is to meet the people who create it: our students, faculty, and alumni. When you meet us, you'll feel the connection, collaboration, and creativity that are the hallmark of the Duke experience. Join us virtually, in person, or both — whatever works best for you.
We serve Duke University by working to create a community of students who embrace growth, collaboration, creativity, integrity, and a sense of inclusion. We strive to identify and enroll students who demonstrate intellectual strengths, a love of learning, a sense of imagination and open-mindedness, and a commitment to their communities; we seek students who make things better and treat others well.
In creating our community we particularly seek students who honor and collectively represent a wide range of talents, backgrounds, experiences, and perspectives. We believe a diverse community better prepares students for an enriching undergraduate experience and lives of meaning and impact. We will consider each applicant as an individual, and consider especially the context of their unique circumstances and the disparity in opportunities and resources facing students, families, schools, and communities.
We are committed to upholding and promoting Duke's commitment to equity. We will communicate internally and externally with honesty and clarity, and will treat our colleagues with respect, understanding, and kindness.